Crossline Records Artists
Phil Cross
Chattanooga, TN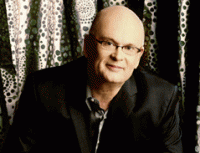 Phil says, "For many years, I've enjoyed producing and mentoring excellent artists. With such a long-lasting relationship with these friends, I find it's time to form Crossline Records as a home for these artists. Helping to make this possible are the fantastic people at Paradigm Music Group. Calvin Gann has been a friend of mine going on two decades and it's an honor to be associated with him and his world-class team. I'm looking forward to what's in store as we continue developing and promoting great gospel music"
Phil Cross is no stranger to Christian Music. He has long been known as one of today's finest composers. He has received many of gospel music's highest honors including Dove Awards, Song Of The Year, and Songwriter Of The Year honors. Although he has gained recognition as a composer and a singer, and has had a great deal of success as a musician, Phil has remained genuine and sincere. His strongest desire is to let everyone know that God is on their side and He has an incredible plan for their lives.
Phil and his wife Rebekah reside in Chattanooga, TN. They are proud parents of Brian, Amanda, and Gavin.
Reconciled Quartet
Flint, MI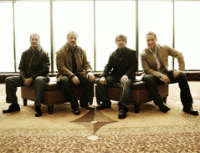 Four Men…One Mission
Reconciled was started in 2007 by four men: Keith Merrow, Jim Rathbun, Jason Eaton, and Dave Potts, who all attended Central Church of Nazarene in Flint, MI. Primarily this group sang for offertories, choir concerts, and other miscellaneous events. What started out as an extension of the music program of Central Church, has turned into an anointed ministry that has seen God's hand opening doors and expanding its purpose.
Reconciled travels whenever the Lord opens the door. This ministry, still in it's infancy, has allowed the group to sing at secular as well as religious functions. We fervently pray for God's divine appointments and seek His will for this group. We truly have no idea where it will all lead, but confidently place it all in His capable hands.
So our mission is clear…serve God by spreading His Word through sacred music divinely inspired and ultimately penned by His Hand, so that others may know the love of Christ and be saved!
Liberty Quartet
Meridian, Idaho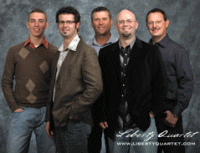 Liberty is a Gospel group based on the West Coast with a full-time concert schedule. The members of Liberty are Royce Mitchell, bass; Dan Gilbert, lead; Doran Ritchey, baritone/piano; and Keith Waggoner, tenor. Liberty averages 50-70,000 miles a year ministering in approximately 200 performances for church services, large conventions including the Great Western Quartet Convention and the Gospel Music Fan Festival in Canada, nursing homes, prisons, and other ministries. Liberty goes wherever the Lord directs.
Liberty has had the opportunity to share the platform with groups such as Legacy Five, Greater Vision, Gaither Vocal Band, Poet Voices, the Isaacs, Crossway, and many others.
Mallory Ledford
Georgetown, TN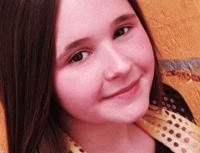 Mallory Ledford has been singing since the age of two years old. Over the last several years, she has developed into a phenomenal instrument of God. She attributes her style and direction to Sandi Patty, Karen Peck Gooch, and Charlotte Church. At 12 years old, she is now taking more and more appointments to sing at different venues to spread the Gospel in song. She currently has a recording with several songs that feature Mallory's dynamic vocal range, control, and confidence. At a level that is uncommon for people of her age, she continues to stun her audiences and appeal to crowds of all ages. If you have not seen her in concert, make plans to attend one as soon as possible. Plan to be amazed, expect to receive a blessing, and share with others her astonishing talent.